28, 2016 at 8:04 PM Comments WEDNESDAY, Sept. 28, 2016 — Use of prescription-strength ibuprofen, naproxen and other commonly used pain relievers may be tied to a higher risk of heart failure, researchers report. Medicines like these fall into a category of painkillers known as non-steroidal anti-inflammatory drugs (NSAIDs). These medications may raise a person's relative risk of heart failure by nearly 20 percent, according to the analysis of medical records for nearly 10 million patients. That risk increases with the amount of NSAIDs a person is taking, said study author Andrea Arfe, a Ph.D. student at University of Milano-Bicocca, in Italy. A person's risk of hospitalization for heart failure doubles for some NSAIDs used at very high doses, including diclofenac (Cataflam or Voltaren), etoricoxib (Arcoxia), indomethacin (Indocin), and piroxicam (Feldene), Arfe said. Also, "our findings — which focused only on prescription NSAIDs — might apply to over-the-counter NSAIDs as well," Arfe said. look here"Although over-the-counter NSAIDs are typically used at lower doses and for shorter durations, they are sometimes available at the same doses as prescription NSAIDs and they may be inappropriately overused." Still, the nature of the study can only point to an association between NSAID use and heart failure risk — it can't prove cause-and-effect.
For the original version including any supplementary images or video, visit http://www.upi.com/Health_News/2016/09/28/Prescribed-NSAID-painkillers-might-raise-heart-failure-risk/1711475107281/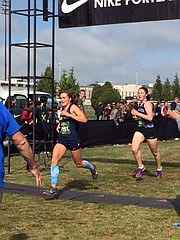 On top of that, almost every athlete on the team set a personal record at the meet. Photo by Margaret Koenig Photo by Margaret Koenig Lottie Bromham The pace just carries, Bertram explained of the fast times. visitYou just kind of get with a group of fast people and if you have a goal in mind, you can just cruise. The boys team was anchored by seniors Jesse Wiley and Jacob Bromham, who had huge PRs for HRV and placed third and 11th overall respectively. He also touted the performance of freshman Omar Quintana who came out on a big stage and set a big PR in the race. But the debut of Connor Truax was one of the biggest causes to celebrate. The junior has been rehabbing a lower-leg injury throughout the summer and Bertram said his appearance at Nike Portland XC was worth the wait. Truax didnt PR, but still went sub-17 and placed 39th out of 151 runners. Hes only been running on the ground for a week and he jumps in and runs faster than he did last year you could tell he wanted this, Bertram said, adding that Truax gives us the extra boost to put us as a top contender in the state. As for the girls, it was the pair of frosh Lottie Bromham and senior Daisy Dolan who led the team, finishing in 12th and 20th places, respectively. It was the fastest race of the season for both. Daisy and Lottie went out pretty hard so they had to grind out that last mile, but they threw down a great race, Bertram noted. Celia Acosta also had a performance of note, said Bertram, with the freshman placing 58th and less than 25 seconds away from hitting a sub-20 milestone. He mentioned the JV girls team also had some fast times in Saturdays race so much so that some may be entered in future varsity races.
For the original version including any supplementary images or video, visit http://www.hoodrivernews.com/news/2016/sep/28/xc-team-picks-pace-nike-portland-meet/
You may also be interested to read